Tencent RTC Blog
Tech
Enhancing QoE: The Key to Captivating Social Entertainment Experiences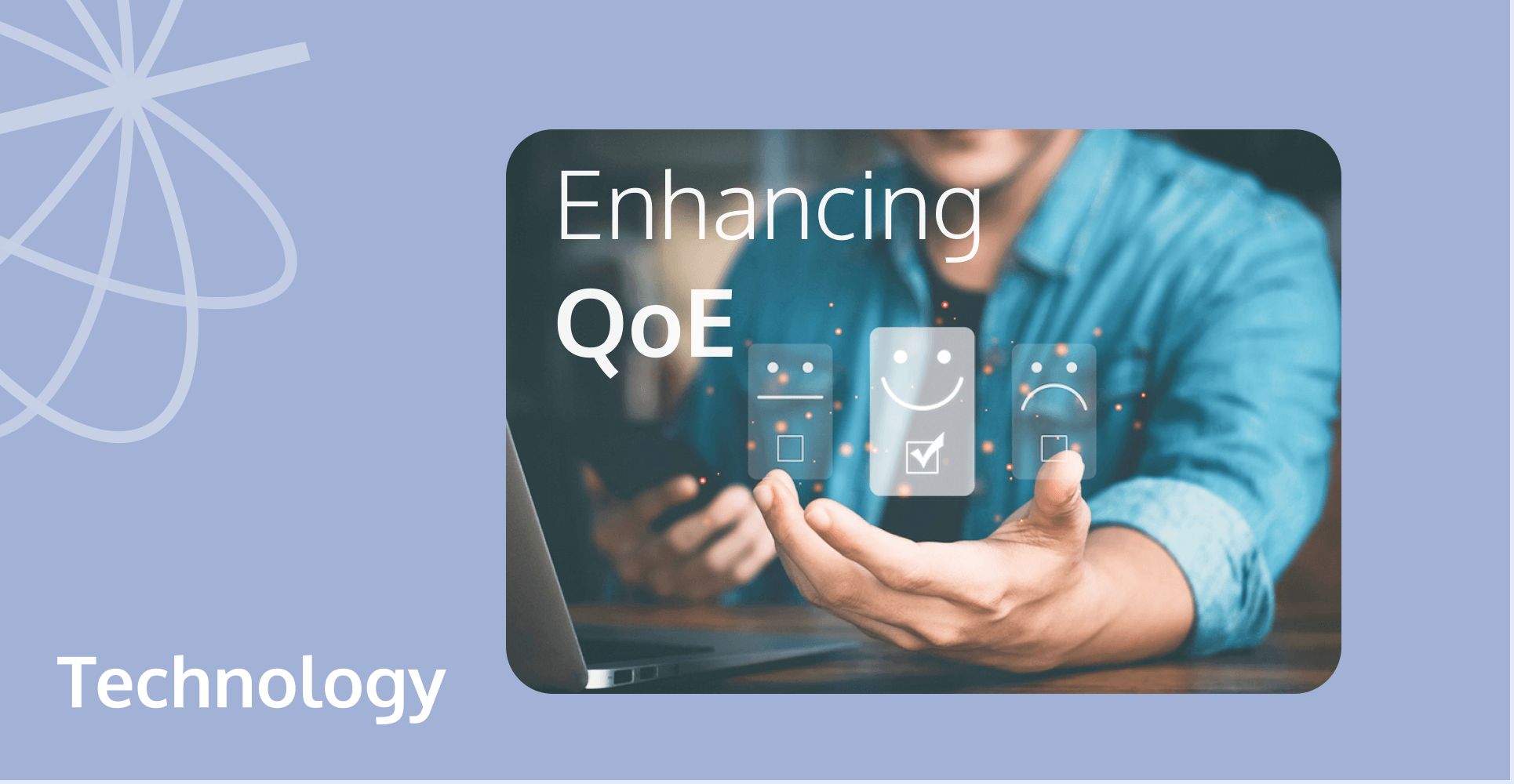 Audio and video developers play a crucial role in delivering high-quality content to users around the world. However, achieving this level of quality requires a deep understanding of two key concepts: Quality of Service (QoS) and Quality of Experience (QoE). In this article, we will explore the significance of QoE for audio and video developers and how they can optimize these factors to enhance user satisfaction.
Understanding QoE in Social Entertainment
Quality of Experience (QoE) forms the crux of success in the social entertainment landscape, governing user perception and ultimately dictating platform popularity and user retention. Consider it as your audience's holistic and subjective interpretation of their experience within a service, product, or application.
In the social entertainment industry, QoE unfolds as a crucial determinant, shaping user experiences while bridging the gap between technical efficiency and user satisfaction. It assimilates various elements, including seamless connectivity, audio-visual quality, interactivity, personalization, and social collaboration features, into a cohesive user experience.
Defining QoE
Decoding the concept, Quality of Experience (QoE), encapsulates the positive or negative impressions users perceive about their interactions in social entertainment platforms. It is more comprehensive than Quality of Service (QoS), addressing a full spectrum of user experiences.
Harnessing Quality of Experience (QoE) enhances interactive entertainment sessions by ensuring the digital engagements are personalized, seamless, and satisfying -- far beyond basic functionality.QoE delves into the nuances that transform any user's engagement from 'good' to 'excellent'. It looks beyond basic functionality, spotlighting aspects like content delivery, user interface, customization options, and social integration.
With its broad perspective, QoE probes how diverse elements interplay to craft an optimal user experience; enriching interactive entertainment sessions, enhancing satisfaction levels, and ultimately, captivating the users in a seamless embrace of digital engagements.
The Importance of QoE in Social Entertainment Experiences
The crucial standing of QoE in shaping thrilling social entertainment journeys is increasingly evident. It serves as the backbone of immersive and interactive experiences, cementing users' satisfaction and enhancing brand loyalty.
Businesses ignoring QoE potentially repel users. Disruptions in entertainment experiences due to poor QoE could lead to customer churn, impacting market standing adversely.
QoE operates as a silent, formidable force in the social entertainment industry. It is inextricably linked to the user's perception, hence its quality directly influences their engagement, satisfaction, and loyalty.
Impact of QoE on User Engagement
User engagement in the social entertainment sphere is firmly rooted in Quality of Experience (QoE). The way a user perceives and interacts with a service determines their level of engagement, making QoE a direct influencer of user involvement.
The potential influence of QoE extends far beyond simple user satisfaction. It's a defining component of user engagement, reflecting not only the user's overall experience but also the interactive elements of the platform.
QoE's impact is far-reaching, affecting user engagement rates right down to a granular level. Network conditions, content quality, responsiveness, and ease of interaction all contribute to the QoE, directly affecting the level and depth of user engagement.
More than a performance metric, QoE is a barometer gauging the extent and intensity of user interaction and engagement. An improvement in QoE can result in a significant boost in user engagement, turning passive users into active contributors.
User engagement, quite simply, can sink or swim based on QoE. An enjoyable, smooth, interactive experience engenders repeat engagement. Conversely, a poor experience, marked by buffering videos, slow downloads or lack of personalization, can lead to user disengagement.
Identifying Key Factors for Enhancing QoE
A holistic approach towards QoE enhancement must first be devised, pinpointing principal elements such as seamless connectivity, high-quality audiovisual content, smooth interactive responsiveness, and personalization features tailored for users.
The invincible checklist for stellar QoE improvement consists of; seamless network performance, content delivery optimization, utilization of cloud and edge caching technologies, adaptive bitrate streaming, and robust bandwidth management strategies, all aimed towards a captivating social entertainment experience.
Seamless Connectivity and Network Performance
Exploiting top-of-the-range connectivity solutions is crucial when seeking to deliver an impeccable Quality of Experience (QoE). High-speed internet is a pivotal asset to ensure no interruptions occur in the stream of social entertainment content.
● Adopting high-speed network services
● Investing in 5G technology for faster content delivery
● Using SD-WAN technology to optimize internet traffic
● Implementing cloud-based content delivery networks (CDN)
● Ensuring server redundancy to prevent downtime
● Leveraging edge computing for increased processing speeds
High-Quality Audio and Visual Content
Quality of Experience (QoE) in the realm of social entertainment relies heavily on the delivery of high-quality audio and visual content. Recognized as critical aspects of immersive and engaging experiences, the balance between audiovisual quality and the performance impacts user satisfaction, engagement, and ultimately, loyalty.
● Prioritizing audio quality in designing social entertainment platforms
● Optimizing video resolution and playback for visual entertainment
● Utilizing apt encoding and compression techniques for efficient content delivery
● Ensuring synchronization between audio and visual components
● Addressing errors, latency, and buffering issues promptly
Smooth Interactions and Responsiveness
One can't overlook the significance of seamless interactions and swift responses in the realm of social entertainment. The interactive element in these platforms helps foster an enhanced Quality of Experience (QoE), keeping users engaged and leaving them craving for more.
● Implementing a responsive architecture to ensure fluid user interactions.
● Adopting efficient load balancing techniques to handle peak user loads.
● Optimizing User Interface (UI) and User Experience (UX) for a smoother interaction.
● Ensuring low latency by leveraging advanced network technologies.
● Renewing feedback mechanisms to understand user concerns and rectify them swiftly.
Personalization and Customization Options
In the realm of social entertainment, delivering uniqueness through personalization and customization stands paramount for boosting Quality of Experience (QoE). Tailoring content to individual users not only amplifies engagement but also leaves a lasting imprint on the user experience.
● Customizable interface: Allows users to alter the look and feel of the platform to their liking
● User-specific playlists: Offers curated playlists based on individual preferences
● Targeting User-Generated Content (UGC): Promotes greater involvement and personal connection
● Recommendation engines: Utilises user behavior, preferences, and consumption patterns to suggest content
● Customized notifications: Tailors alerts to stay aligned with user engagement levels and preferences
● Privacy controls: Allows users to customize their privacy settings as desired
Social Integration and Collaboration Features
In interactive social entertainment, the inclusion of collaboration features and social integration can significantly augment Quality of Experience (QoE). These capabilities allow users to foster deeper connections while experiencing content in real-time, thereby enriching their overall participation and enjoyment.
● Efficient multi-player modes for collaboration
● Integrated chat and voice communication features
● Provision for sharing achievements and progress on social media
● Interactive features like leaderboards to facilitate friendly competition
● Implementation of collaborative problem-solving activities
● Real-time content sharing and co-viewing facilities
Implementing Strategies for QoE Enhancement
Bridging the gap towards perfect QoE demands consistent improvement. Regular quality assessments simplify the identification of performance bottlenecks, paving the way for timely response.
Success lies in the proper alignment of advanced technologies and smart strategies. Optimizing content distribution, leveraging cloud computing, and adaptive bitrate streaming play a crucial role in augmenting QoE in the realm of social entertainment.
Conducting Regular Quality Assessments
Quality assessments stand as a lifeline for enhancing QoE in social entertainment. By conducting periodic examinations, businesses can identify areas of improvement, thereby significantly amplifying their QoE standards.
Diving into the granularity of these assessments unveils commendable precision. It includes inspecting visual and audio clarity, responsiveness, and overall smoothness of user interaction. Regular evaluation ensures these facets are polished to perfection.
An entity's commitment to continual quality assessments mirrors in its QoE. Priority given to these audits increases user engagement, encourages personnel to maintain high standards, and distinguishes the company from competitors.
These assessments play a stellar role in elucidating user requirements. With the knowledge of user preferences, these evaluations foster the provision of tailored experiences, a crucial aspect of superior QoE.
Lastly, it is only fitting to stress the transformative effect of these assessments. They motivate businesses to introduce innovative solutions, therein escalating the QoE, leading to an enthralling social entertainment experience.
Optimizing Content Delivery and Distribution
Maximizing reach while winning hearts forms the cornerstone of refining content delivery for an elevated Quality of Experience. Sounds complex? By deploying geographically distributed delivery networks, businesses can ensure fast, uninterrupted, and high-quality streaming of entertainment content. A streamlined content delivery architecture stands as a critical instrument in crafting superior user experiences.
Distribution, when mastered, can unlock the potential for a superior Quality of Experience. Achieving an effective content distribution strategy extends beyond merely ensuring content availability. It involves intricately balancing factors such as content relevance, delivery timing, and platform suitability to resonate with the target audience's needs and preferences.
Stepping into the shoes of consumers, envisioning their needs, and optimizing content delivery accordingly positions a business to provide an unprecedented QoE. Any business in the social entertainment landscape aspires to satiate its audience's hunger for engaging experiences. Strive for a flawless content delivery and distribution strategy - a secret sauce to spice up the customer journey.
Leveraging Cloud Computing and Edge Caching Technologies
Cloud technology and edge caching serve as twin pillars of the future, crucially advancing Quality of Experience (QoE) in social entertainment. Unparalleled efficiency, scale, and adaptability are hallmarks of these technologies, offering seamless content delivery and network performance upgrades.
Advocating disruptive QoE enhancements, trending tech approaches must be embraced. Proactive adoption of these technologies, specifically cloud computing and edge caching, will significantly better content delivery, reduce latency, and render buffer-free streaming experiences.
Aboard the tech-coaster, cloud computing propels service scalability, while edge caching mitigates latency woes. These technologies, cohesively operating, drive exceptional social entertainment experiences, solidifying user engagement and culminating in optimal QoE.
Implementing Adaptive Bitrate Streaming
In social entertainment, adaptive bitrate streaming serves as a paramount tool for effortless, uninterrupted media consumption elevating Quality of Experience (QoE). Transforming video delivery, this technology guarantees seamless content flow regardless of the network conditions.
The intrinsic sophistication of adaptive bitrate streaming lies in its ability to adjust video quality in real-time, ensuring flawless viewing experiences. This act significantly bolsters QoE as interruptions and lags become virtually non-existent.
Consequently, enhanced adaptive bitrate streaming grants users the ability to glide effortlessly through data, creating resilient streaming processes that can weather varied network conditions. With user retention being linked directly to QoE, this becomes a real game changer.
Fusing advanced engineering with customer-centric design, adaptive bitrate streaming stands at the forefront of QoE enhancement strategies, driving immersive and uninterrupted experiences in the social entertainment landscape.
Monitoring and Managing Network Bandwidth
In social entertainment, ensuring optimal Quality of Experience (QoE) is the cornerstone to captivating user experiences. Bandwidth management plays a critical role. Prioritizing traffic becomes essential to balance bandwidth, guaranteeing seamless access to services.
To transcend limitations of traditional approaches, innovative strategies have emerged in efficient bandwidth management. These result in better performance, even in peak times, ensuring no compromise on QoE.
Adopting advanced protocols such as Multi-Protocol Label Switching (MPLS) and Software-Defined Networking (SDN) allows for flexible traffic management, enhancing QoE.
Implementation of these strategies effectively differentiates between high-priority and low-priority traffic. Consequently, social entertainment experiences become significantly more robust and uninterrupted.
When broadband performance seamlessly underpins quality entertainment experiences, user satisfaction proliferates. Hence, consistently monitoring and managing network bandwidth proves crucial.
Tencent's Advantages in QoE (Quality of Experience) Algorithms for Video and Audio Services
1. Real-time Optimization and Adaptive Adjustment: Tencent's video and audio services can perform real-time optimization and adaptive adjustments based on network conditions, user device performance, and content characteristics. This helps maintain stable video quality and smooth user experience across various scenarios.
2. Multi-bitrate Encoding Technology: Tencent employs multi-bitrate encoding technology to provide suitable video streams for different devices and network environments. By dynamically adjusting parameters such as bit rate and resolution, it ensures high image quality while reducing bandwidth consumption and improving playback stability.
3. Intelligent Buffer Management Strategy: Tencent's video and audio services utilize advanced intelligent buffer management strategies to reduce latency and stuttering. By prioritizing and processing data packets, they ensure timely transmission of key frames and enhance the overall video viewing experience.
4. Packet Loss Recovery Mechanism: To address network jitter and packet loss issues, Tencent's video and audio services employ an efficient packet loss recovery mechanism. Techniques like forward error correction (FEC) and packet loss concealment are used to compensate for lost data, thereby mitigating the impact of unstable networks on video quality.
5. Network Prediction and Congestion Control: By collecting and analyzing network status information, Tencent's video and audio services can accurately predict future network conditions. Based on these predictions, appropriate measures are taken, such as adjusting the bit rate or switching links, to ensure optimal user experience.
6. Terminal Adaptation and Optimization: Tencent's video and audio services are deeply optimized for various types of terminal devices, including smartphones, tablets, TVs, and desktop devices. Resource allocation and rendering optimization are tailored to the specific performance and characteristics of each device.
7. Content Analysis and Dynamic Scheduling: Leveraging big data analysis and artificial intelligence technologies, Tencent's video and audio services can conduct real-time analysis of different types of content and dynamically schedule resources based on actual needs. This enables better handling of popular content and sudden traffic spikes, further improving the user experience.
In summary, Tencent's video and audio services possess multiple advantages in QoE algorithms, providing stable and high-quality video services for users under complex network environments.
If you have any questions or need assistance, our support team is always ready to help. Please feel free to Contact Us or join us in Discord.
Talk to Our Expert
By clicking the submit button, you agree to allow Tencent Real-Time Communication to store and process the information above for contact purposes. Please read our Privacy Policy